Simply upload pictures of dogs, cats, funny sayings etc, THEY put on it on Tshirts, Mugs and Mousepads and when people buy, you earn a profit! I created a store for the Sheltie Rescue and they've made around $700 towards their medical fund so far.
---
KATZ DAWGS & Other Critters
Breed Rescues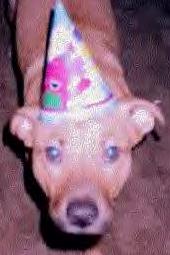 This page is dedicated to my Boo, looking spiffy in his Barney birthday hat for my daughters 4th birthday, he's my boxer/shar-pei/pitbull mix. Check out The Pitbull page for more pics of Boo, and Hooch my old brindle pit.
About Breed Rescues:
Common Misconceptions About Breed Rescues

You can actually get 250 FREE Business Cards for your animal rescue organization! I got them for my petsitting business, and I think it was around $5 for shipping, which is nothing for 250 business cards!
BREED RESCUES:
There are thousands of breed rescues out there. The first couple links will give you the large sites which list almost all of them, and then there's links to some of my favorite breed's rescues, just because those are the ones I check out from time to time out of curiosity and love of the breeds.

Kyler Laird's animal rescue resources: breed rescue organizations

Clubs and Organizations for Purebred Rescue Dogs if you really want a purebred, save one!

Northwest Indiana Area Rescues and Shelters:

Hobart Indiana Humane Society In desperate need of cash donations, see page for how to help.

RobDar's Beagle Rescue Hammond IN.

Strays in the Garden in Highland

Midwest Animal Rescue Coalition in Hebron

American Bulldog Rescue in Hammond. Theyve got some gorgeous big guys & gals, and pups!

Indiana Sheltie Rescue

Smaller Dogs:

Heller's Angels no kill" dog rescue in Clay County, Indiana. We specialize in the rescue and rehabilitation of small dogs, particularly Pomeranians.

Pomeranian Club of Greater Baltimore Breed rescue committee.

Pomeranian Club's Rescue Contacts in all other states.

Pomeranian Club of Central IN Breed Rescue Beware the angelfire popups!

Shih Tzu & Furbaby Rescue Resources in pretty much all States.

Shih Tzu Rescue Rescues listed in a few states, plus good info links.

Shih Tzu Rescue, Adoption, Dogs Info for rescuers as well.

Shih Tzu Rescue, Adoption & Education Safehouse Northern Illinois

Bluegrass Shih Tzu Rescue Kentucky & Tennessee

Fuzzy Pawz Shih Tzu Rescue Growing network all over the US, based in WI I think.

RobDar's Beagle Rescue Hammond IN.

Shetland Sheepdog Rescue Shelties! Has a state directory of rescues.

Sheltie Rescue of Central Indiana They have contacts all over the state of Indiana as well.

Precious Secrets Sheltie Rescue based in Middletown Ohio

SC Sheltie Rescue South Carolina

The big boys (& girls!):

American Bulldog Rescue in Hammond. Theyve got some gorgeous big guys & gals, and pups!

Adopt a Homeless Animal American Staffordshire Terriers, Pit Bulls and mixed breeds

Chicagoland Bully Breed Rescue specializes in the bull breeds especially pit bulls.

Dal-Savers Dalmation Rescue Illinois, Wisconsin, Indiana, Minnesota, Michigan, Iowa and Missouri.

Indiana Collie Rescue from the Indiana Collie Club.

Collie Rescue Groups Listings for many states.

Border Collie Rescue Based in Florida.

Great Lakes Border Collie Rescue Serving Michigan, Upper Peninsula, Illinois, Indiana, Wisconsin

Tri-county Collie Rescue of Michigan Lots of other info on collies as well!

Camp Collie You arent able to adopt a collie on this site, but you could help them by donating time or money to the care of 166 collies found in very bad health in a semi. If you've heard of Valiant Collies (the AKC registered this puppy mill of filth), they are now charged with 181 counts of animal cruelty

American Working Collie Association
You are number

to visit Kats Dawgs Breed Rescues

View My Guestbook
Leave Your Pawprints on My Guestbook


Top animal sites:

Top 50 Dog Sites Top100SitesNetwork.com-Dogs Vote For Us At The Top 100 Pet Sites

---
For genealogy (of humans) check out Firstmom's Genealogy Resources and Records