---
The pretty little shelties you see in the above picture are just ones of MANY available at shelters across the US. If you're here because you're interested in buying a sheltie...click on the photo to go to Petfinder.org where you can search by breed, and your zip code to find a great little lap warmer! And if you think all shelter dogs are defective mutts...I beg you to go look at some of the gorgeous shelties and collies listed on there! Older dogs are usually housetrained, out of the puppy chewing stages, and settled down enough to be a welcome addition to your family. Some do need extra love and care, but maybe you're the right person to give it to them.
---
Welcome to the Collie & Sheltie Page
...dedicated to Smokey
My mom has always had either shelties or collies, so these are the breeds I grew up with. She showed her shelties in the 1960s and 70s under the name Windward Kennels. Once I get her to dig up some very old pictures, I will show off some of her previous shelties.
For now, here's some pictures of Smokey, mom's 7 yr old white factored blue merle collie. Below that are links for you to find your own sheltie or collie, or more information on the two breeds.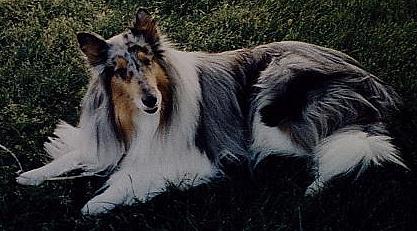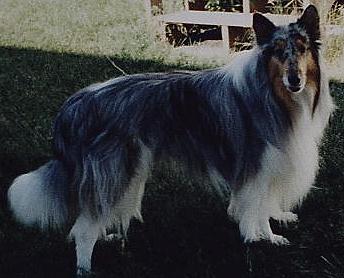 Now for some links! First shetland sheepdogs: